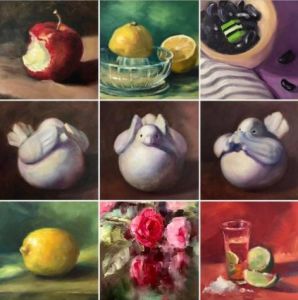 Still Life Classes to start in October
Still life classes commencing in October...I'll begin by sharing a method called "Daily Painting"...a great way to learn and improve fast. All materials will be provided..5 hour workshops once a month, similar to how I run the Bob Ross workshops..except materials will be easy to buy locally! 😁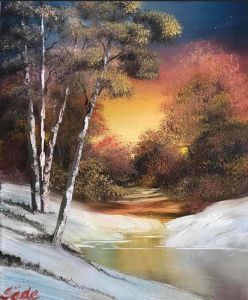 Next Month's Painting
Teaching this one next month...there'll be a few new techniques in it for some of my students..a black canvas and the round brush for foliage. This is a much easier one than this month's seascape which they all managed beautifully and with much laughter! I love it towards the end of class when I see the paintings coming together. Sometimes I do a mad dash to a student's easel to stop them from adding a single thing more...even if it means taking away their brushes. It's always a hilarious moment. 😂 Looking forward to seeing what they come up with. There is 1 available spot in the first class, and 3 in the second. 💛🧡❤️💚🤎 Golden Sunset Series 10 Episode 8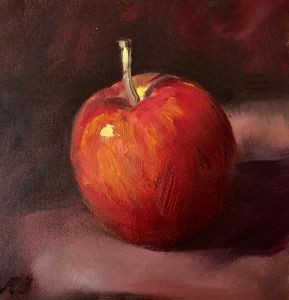 Still Life Class?
featured post
Anyone interested in a regular still life monthly class with me? The class would be held in Brisbane..at my Woolloongabba studio. I've had a few queries so I'm putting out feelers. We would be painting from life..not photos..and I would teach a tonal impressionist method that is very painterly but also user friendly for people who don't draw...because no drawing is involved. 😂 'Read More' for some more of my still life examples.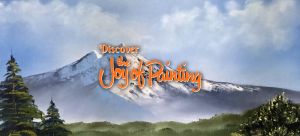 Brisbane Classes Available for Booking
featured post
Our Bob Ross painting classes are available for booking again from August through November in Brisbane. Never painted before? No problem. Bring some friends and have some fun learning to paint in Bob's original method. Everyone can do it. Head over to arthoughts.com to reserve a spot.
...
How I paint my Daily Bobs when I travel and get them home without smudges...easy to stack the wet paintings on top of each other and put a clean one on top. 😁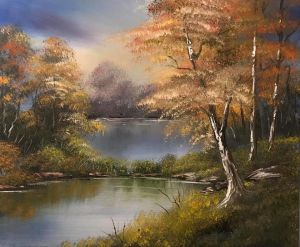 Series 12 episode 4
Used the corner of the two inch and one inch brush for all the foliage in this one. Nice trick Bob..love those big brushes..so versatile. Also used Archival's alkyd medium to thin the paint for highlights and branches..it's fantastic...a safe and hassle-free allrounder that I'm substituting from now on for Bob's liquid clear and thinners..ditching those horrors forever. And it's made in Australia! 😊❤️ Series 12 episode 4 10"x12" Oil on canvas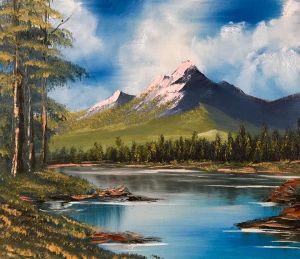 Series 12 Episode 3
Enjoyed painting the mountains in this one..the little changes, like throwing the light from the left, the grassy areas at the base. I was a bit impatient following Bob in the video, so after painting the highlights on the mountains I finished it off using the image in the instruction manual. Could also be fun to first watch the video, then paint it from memory! Series 12 Episode 3 10"x12" Oil on canvas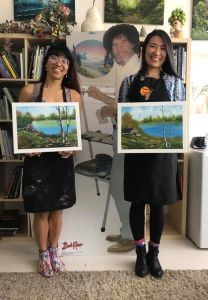 Yesterday's class gems...
Yesterday's class gems blew my mind how well the paintings turned out. I've put each of their paintings below..have a peek..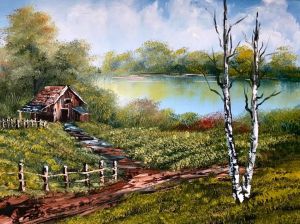 Second Trial Run
Second trial run...easier to teach now I think. Will be an interesting class tomorrow, very talented fun girls who get what Bob is about..we'll make up stories about the barn..today it became a barn conversion/summer getaway for me...in Finland...the sauna is tucked away behind the trees, right on the water. Hubby and I have gone berry picking..we found a wild strawberry patch. 🍓 🍓 🍓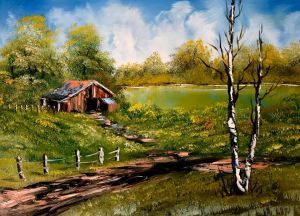 Trial Painting for Upcoming Class
Trial run for my next class...have to dig into my bag of tricks for this one, to make it manageable for my students. There are so many layers of paint in the lower half..ends up too gluggy, for me anyway. Going to try something different before Saturday..apply liquid white only to the top half of the canvas..the sky and water areas..then use straight dark paint on the bottom half, on dry canvas, before adding the highlights and other features. I'll still be painting wet in wet, but hopefully not mud into mud. 😂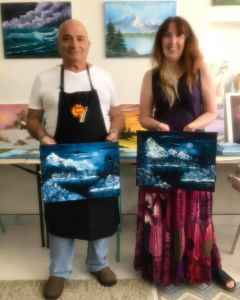 Classes Still Running For the Time Being
I've limited the numbers for GOld Coast classes to no more than 3...Brissie studio still fine for the maximum number of 9..more than enough space to keep a safe distance. I'll keep teaching for as long as I can, not cancelling classes unless necessary. I am looking forward to starting my daily Bob's again..life sure has gotten in the way..for a few months now. Happy painting friends and let's stay connected. ❤️❤️❤️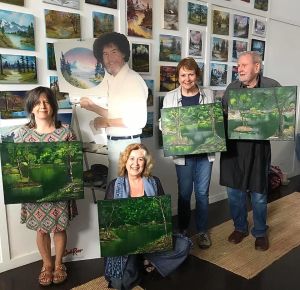 Emerald Waters
Today's class was Emerald Waters..4 different interpretations..all absolutely lovely. ❤️ Next week I start painting my daily Bobs again. ❤️😁👍🎨🌟❤️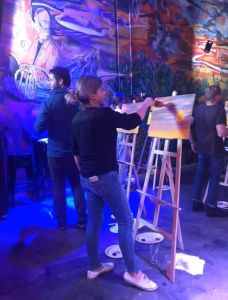 Event: Mo's Desert Clubhouse
Another great night at Mo's desert clubhouse.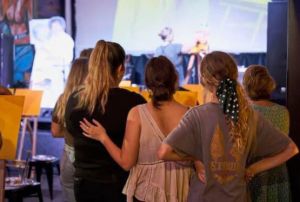 Event: Bob Ross Challenge
featured post
Hey, to anyone in the Gold Coast area on Thursday March 12th, come join me at Mo's Desert Clubhouse in Burleigh Heads for the next Bob Ross challenge...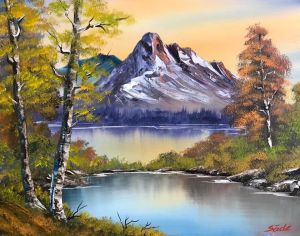 Mountain Splendour
Teaching this at my next class..Mountain Splendour. I've learnt to appreciate Indian Yellow with this one..works beautifully in Autumn/Fall paintings.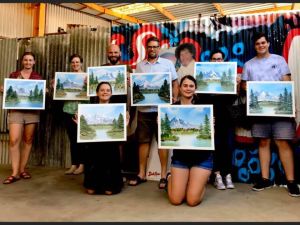 Group Photos
featured post
Bob Ross workshop group photos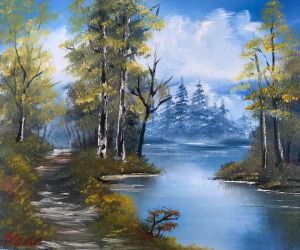 Series 11
Series 11...so far I'm not a fan. Bob experiments more in this series with liquid clear, which I find tricky and unpredictable.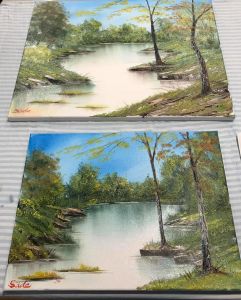 Lazy River Practice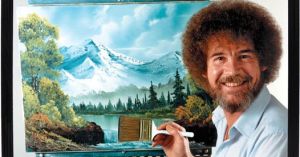 HOW TO BE A BOB ROSS HAPPY LITTLE TREE. 🌲🌲🌲😁😁😁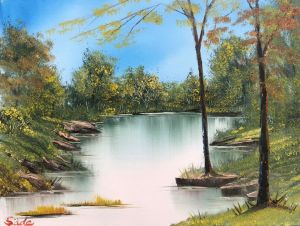 Lazy River
Finally worked out a straightforward way to teach this at my next workshop..Bob painted this one early on in the series..in season 2...and following his process wouldn't work with students who've never painted before.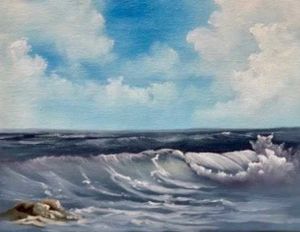 Introducing Gold Coast Workshops
featured post
Introducing Gold Coast Workshops
Series 10 Complete
Finished season 10 of the Joy of Painitng with this one..yippee..next big milestone I'm aiming to reach will be season 15…I'll be halfway then to my final goal…Daily Bobs done and dusted!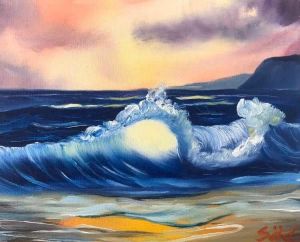 A Little Inspiration
First daily Bob of the year…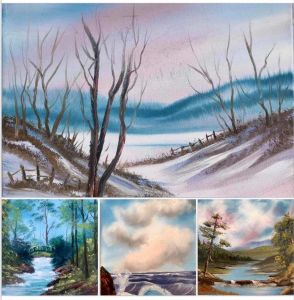 Series 10 Progress
Season 10…a few more done. Some friends are joining me this year and also painting every painting from Bobs tv series…all 403 of them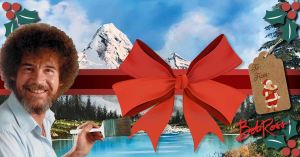 The gift of Bob
Know someone that would love the gift of Bob Ross this xmas?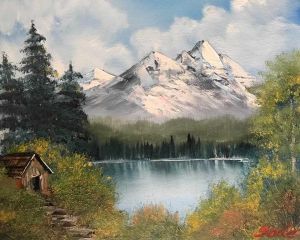 Series 10 Begins
Started series 10…double digits…a happy little milestone!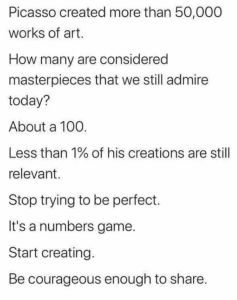 A Little Inspiration
I usually post only about Bob on this page but this fb post by Ryan Stephens is so spot on…a bit of gold to share with my students and it's what Bob was about anyway…forget perfection and keep painting, and remember the most important thing is that it makes you feel happy! ALLOW YOURSELF TO BE HAPPY. ❤️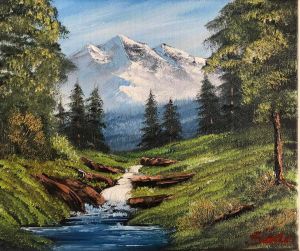 Imagination
Imagination is one of the most important things you can possess. So develop your imagination…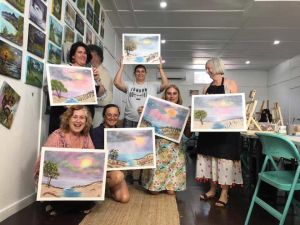 Another Great Workshop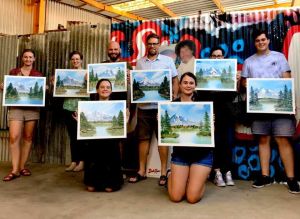 Another Great Day Teaching
Another great day teaching…lovely results from all and lots of happy vibes. Class photo outside this time..Bob's there in the background somewhere 😊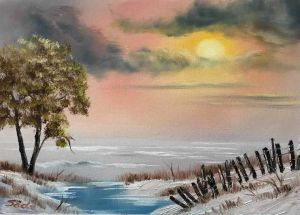 Check the results of this week's workshop
Peep this preview for Next Week's Workshop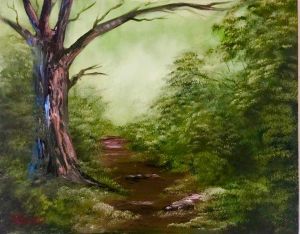 Check the results of this week's workshop
Check the results of this week's workshop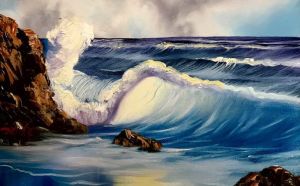 The Joy of Painting - Seascapes
Working through season 9…used Bob's newly arrived liquid clear today…very tricky, can't picture students managing even the very thinnest coat. I've used a substitute medium when I ran out of Bob's product and found that it works brilliantly, much better than Bob's. Still have plenty of time before I teach a seascape..thank goodness..I'll be churning them out before then…picture a seascape factory! That's me. 💜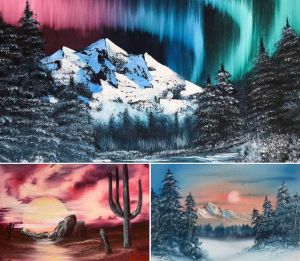 I Painted all of Bob Ross Season 8
Finished season 8 finally. Continue reading below to see the results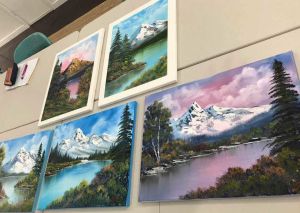 Scenes for Beginners
These mountain themes are great for newbies to the method…they cover a nice range of techniques with Bob's magic brushes…all you need to know to get painting along with him at home. 👍😊
Season 8 Progress
Series 8 so far. Discovered my next challenge - the colours in Bob's foliage…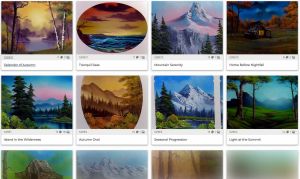 Two Inch Brush
Thought I'd share this wonderful link which I use all the time.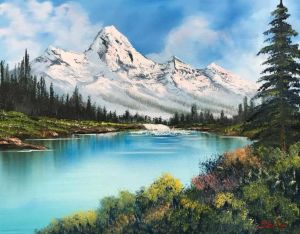 Learn to Paint with Us
Here's one of the paintings taught in our Brisbane studio…anyone can do it! That's what Bob promised.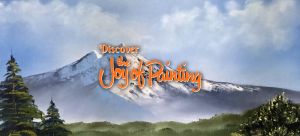 Welcome to Arthoughts
featured post
Follow us for updates from our Bob Ross painting workshops in Brisbane and on the Gold Coast